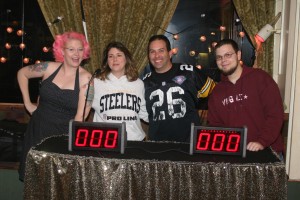 Sangria Sunday Funday with Miss Kitty Quiz Show!
Play a real game show with two teams of two or more and wine prizes from area businesses. Two light-up stations with microphone and buzzer complete the full effect of a real game show. Bill Finn of Scorpio Productions (available for private events too!) is your host and DJ for the night playing requests between rounds and offering general trivia ideas. The questions are easy at the beginning just to get the hang of it and increases as each team plays more and more.
Are you new to Quiz Show?
Don't worry, we will be sure to fit you in and make sure everyone gets a turn. There's even a chance to win up to $500 just for watching!
$5 Sangria, $2.25 Bud & Bud Light 16 oz. Aluminums and Bud Light Platinum 12 oz.
Thank you to our wonderful sponsors that provide excellent prizes!