Wed., Nov. 21, 2012 at 8pm
C-n-T Karaoke and DJ
Call Your Shit and Make It Stiff $6 Martinis and pretty much anything else!
Thu., Nov. 22, 2012 Thanksgiving Potluck at 2pm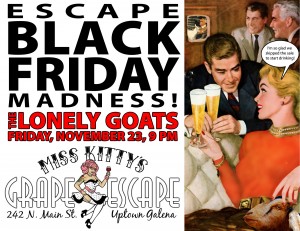 Fri., Nov. 23, 2012
The Lonely Goats
Escape Black Friday Madness!
Complimentary chips and salsa from 4-7pm.
Sat., Nov. 24, 2012
11am- 3pm All You Can Garnish Bloody Mary & Mimosa Bar
2-5pm The Afternoon Rock n'Roll Show with Johnnie Walker on guitar playing classic hits from Eric Clapton to John Denver to Neil Diamond.

At 8pm, please welcome Justin Morrissey from the quad cities with his beautiful voice and song writing that is the blue grass-rock you've come to love each time he's here.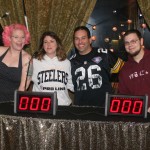 Sun., Nov. 25, 2012
Sangria Sunday! $5 Sangrias and $2.50 Bud, Bud Light, and 55
8pm – midnight: The Miss Kitty Quiz Show!
Play a real game show with two teams of two or more and win prizes from our area sponsors. A chance to win up to $500 just for watching. All skill levels welcome. Thank you to our host, Bill Finn of Scorpio Productions.