Wine & Martinis, Beer, Spirits & Entertainment!
You can find it all here at Miss Kitty's Grape Escape located in the heart of downtown Galena, Il. Relax with a specialty martini or "you're the boss" with our famous creation . . . Build Your Own Bloody Mary and Mimosa Bar Saturdays from 11am-3pm.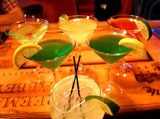 Cosmopolitan Cocktail Lounge
Everyone seems to love coming here after work, before dinner, or for a late night libation. A great place to relax and unwind. Don't miss our outstanding appetizer selection along with sinful desserts.
Entertainment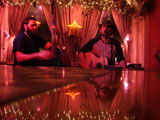 we offer some of the best entertainment around. None of that noise you have to scream over, but very easy, conversational, original stuff from some of our colorful and talented locals.
View our entertainment calendar.
Private Parties
For your next big event plan a cocktail party at The Grape Escape. Your party will have that personal touch because the Grape Escape will provide you with your own personal bartender who will cater to your party exclusively. They will also create for you a collage of our specialty martini's, and tempt you with our extensive wine list, if that doesn't suit your pallet then a full bar will be available for any drink orders. The Grape Escape staff is trained to prepare decorative gourmet appetizers that will pair with the evenings theme. Learn more.
To book your event call us at 815-776-WINE.